Digital Corpora & Digitization
Digital source materials
Are you searching for digitized sources for your research or education? The Utrecht University Library offers an excellent resource to explore. With a vast collection of licensed e-books, digital text corpora, and access to platforms facilitating research on diverse digital text and (audio) visual corpora, the library can provide valuable support.
For a comprehensive overview of digital textual and audio visual corpora that are suitable for DH research, please visit the search engines page of the library and select Humanities. Then use the tag text mining to easily filter on text databases specifically available for this purpose. To find audiovisual databases you can select the sound and vision type (or beeld en geluid in Dutch).
Digitization requests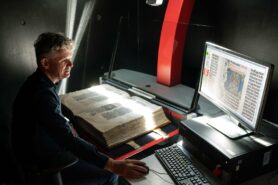 Do you require specific source materials for your research or teaching activities that are not yet available in digital format? The Utrecht University Library has its own 'production line' with three scanners for scanning and digitizing and offers a digitization service, where an increasing number of texts are being digitized upon request. To submit a digitization request, please reach out to one of the team members.