Humanities IT
Humanities IT is the IT department of the Humanities faculty and provides tailored services and infrastructure to the CDH, and to researchers in the faculty of Humanities.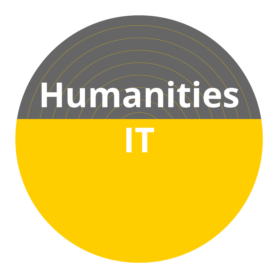 Services
The team at Humanities IT takes care of:
Delivering and maintaining custom-made server environments for research, using modern 'DevOps' automation practices to ensure short delivery time.
Providing a multisite WordPress environment, allowing to quickly create project websites, using readily available components and themes. Specialist support is available.
Consulting on technological topics, such as information systems architecture, IT security and performance, and different options to make research tools available for use.
Expertise
Engineers of the Humanities IT:
Have a strong focus on the Linux server environment, and web applications, ranging from small, single-user research tools to load-balanced multi-server hosting environments.
Have many years of experience managing and securing Linux and Windows servers.
Are trained in Elasticsearch, Docker and other technologies relevant to Digital Humanities research.
Contact
Email: HumanitiesIT@uu.nl
Phone number: (030 253) 8100