Library Support
The Centre for Digital Humanities collaborates closely with the Digital Humanities (DH) Team of Utrecht University Library. The University Library offers a range of services to support research and education in the field of digital humanities. The specialised DH-Team offers tailored advice for students, lecturers and researchers.
Digital Humanities Team
The DH-Team consists of a multidisciplinary team of specialists that can provide you with information on digital humanities. The DH-Team can provide advice and help with:
acquiring, archiving, and accessing qualitative & quantitative data;
assistance with digital humanities methods in education and research;
digital techniques for automatic optical character or handwriting recognition;
working with digitised full-text corpora;
Linked Open Data.
Library support to researchers
Are you looking for digitally available sources for your research? Do you want to apply text mining on a text corpus? The DH-Team is ready to give advice and information about:
Linked Open Data;
Digital Information skills and working with digital corpora;
Meta dating, OCR (Optical Character Recognition) and OLR (Optical Layout Recognition).
Library support to teachers
The (technical) experts of the DH-Team can give teachers advice and information on digital information skills (from beginners' level to advanced) and working with digital corpora, but can also help you in the field of data management (RDM) and copyright. The DH-Team can also provide help and advice during the process of supervising a thesis of a student who makes use of a digital component like digitised material, text mining analyses, or saving a dataset.
Library support to students
Advice on your thesis
Does your thesis contain a digital component? Whether you make use of digitised material, want to carry out text mining analyses or need to save a dataset, with their expertise the DH-Team can offer help and advice on the research stage of your thesis.
Digital corpora
If you are looking for digitised sources the University Library is a good place to start. They have licences on a large number of e-books and digital text corpora, but also offer access to platforms for DH research with which these (and other) digital text corpora can be researched. This also applies to a broad range of (audio)visual corpora.
An overview of the digital corpora (textual and audio visual) that can be used in DH research, please go to the search systems Humanities. Filter on the tag 'textmining' to find the databases that are available for textmining. To find audiovisual databases you filter on the kind of database and select 'audiovisual'.
Digitisation request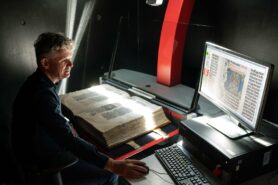 Do you need digital material for your research or teaching activities? In the digitisation street of Utrecht University texts are digitised for research and education goals. This is done by request. You can submit a digitisation request by contacting one of the team members below.
Georeferencing: a second life to old maps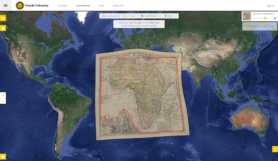 By putting an early map on top of a modern one you can create virtual reality. That's what georeferencing means. In this way you compare old to new situations. The georeferenced map layers show the changes over time. In addition, the old maps can be better analysed and are therefore better suitable for research purposes. By georeferencing Utrecht University Library wants to create perfect access to its collection of early maps for lecturers, researchers and students. The georeferenced maps can be used directly in your own geographical software and the georeferenced maps are easy to find via an interactive world map.
The CDH offers a joint UB and CDH workshop on Georefencing on request.
Contact
Contact the Digital Humanities Team at University Library by sending an email to library.digitalhumanities@uu.nl.
Team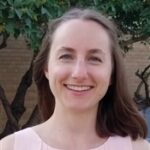 Chelsea Crane MA
Information/Collection Specialist
Audiovisuele corpora, DH communication/PR, Linked Data, Metadata, Support Transkribus/Handwritten Text Recognition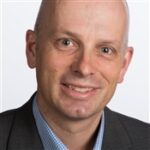 Dr. Marco van Egmond
Curator
(Digital) Special Collections, Georeferencing, Data visualization
m.vanegmond@uu.nl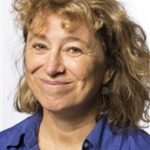 Arja Firet MA
Subject Librarian Humanities
DH community, DH in education, Digitisation, Content programme Digital Humanities Workspace, Text corpora, Transkribus/Handwritten Text Recognition, I-Analyzer support
a.firet@uu.nl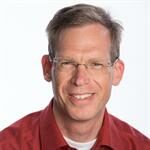 Frank Koper
Functional Information Manager
Metadata, Cataloguing formats, Linked Data
f.koper@uu.nl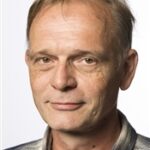 Coen van der Stappen
Information/Collection Specialist
Digitisation, Special Collections, Optical Character Recognition/Handwritten Character Recognition, Linked Data, Digital Preservation, Abbyy Finereader, Transkribus, Open Refine
c.vanderstappen@uu.nl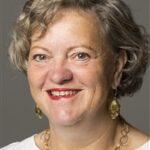 Maaike Wijnen MA
Account Manager
DH community, Special Collections, Digital culture & heritage (generally), PR & network heritage partners, Organisation of events, Digital Humanities Workspace
m.m.wijnen@uu.nl