Events
CDH Lecture: Situating Data – Inquiries in Algorithmic Culture
The Department Media and Culture Studies at Utrecht University recently published (in open access) the edited volume Situating Data – Inquiries in Algorithmic Culture (Amsterdam University Press); bringing together a diverse and imaginative set of contributions that offer timely lessons on the importance of data in contemporary cultural practices. During this CDH lecture, the editors and several authors will present their chapters exploring the relationship between culture and data and demonstrating the value of media and culture studies for the emerging field of critical data studies.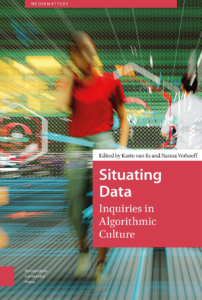 Staff at the Department of Media and Culture Studies are researching questions regarding the impact of datafication and algorithmization on our culture. The collection 'Situating Data' offers various perspectives within the field of cultural inquiry, specifically (new) media studies, game studies, urban studies, screen studies, and gender and postcolonial studies. This enables a shared conversation about the common ground of these approaches as specific to, as well as for, cultural inquiry.
The perspective of the collection is double. It asks the question: what is the unique contribution of media and culture studies to the emerging field of critical data studies? But also, the other way around: what role do these cultural transformations of datafication and algorithmization play in the theoretical and methodological development of the cultural inquiry itself?
This lecture will be introduced by the editors of the book, associate professor Karin van Es and professor Nanna Verhoeff. This is followed by a presentation by the authors of three chapters from the collection and a round table discussion, led by Karin van Es.
Programme
15.30: Introduction on 'Situating data' – Nanna Verhoeff & Karin van Es
15:40: 'Caged by data – Exposing the Politics of Facial Recognition Through Zach Blas's Face Cages' – Rosa Wevers
15:50: 'How Eva Louise Young (1861-1939) Found Me – On the Performance of Metadata in Knowledge Production' – Iris van der Tuin
16:00 'Situating the Marketization of Data' – Anne Helmond & Fernando van der Vlist
16:10: Roundtable discussion – host Karin van Es
16:45 – 17:30 Drinks
There are a limited number of places for this lecture, so make sure you register in time.